Programs, incentives and advice for Manitoba farmers and ranchers
Manitoba Programs Guidebook
Download our guidebook to learn more about on-farm programs and incentives in Manitoba.
The guidebook provides details on conservation agreements, wetland restoration, forage, marginal areas, winter wheat, rangeland improvements, hay tenders, grazing opportunities and buying and selling land with DUC.
Our programs are science-backed and field-tested. It pays to work with us!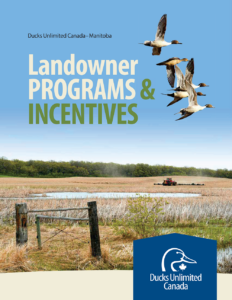 Funded by the North American Wetlands Conservation Council (NAWCA), DUC restores and protects habitat that benefits waterfowl and wildlife. Those same wetlands and grasslands are critical for sustainable farming.

DUC also receives funding for forage programming, MAP and wetland restorations from Manitoba's Conservation Trust.
Our conservation successes
Since beginning operations in Manitoba in 1938, DUC  has collaborated with over 3,000 landowners. Together, we have conserved 711,744 acres and influenced 1.1 million acres in the province. Read more.
Manitoba Office
Unit 2, 545 Conservation Drive
Brandon, MB R7A 7L8
204-285-9779
du_brandon@ducks.ca