News
November 15, 2023
Ducks Unlimited Canada announces partnership with FCC's Sustainability Incentive Program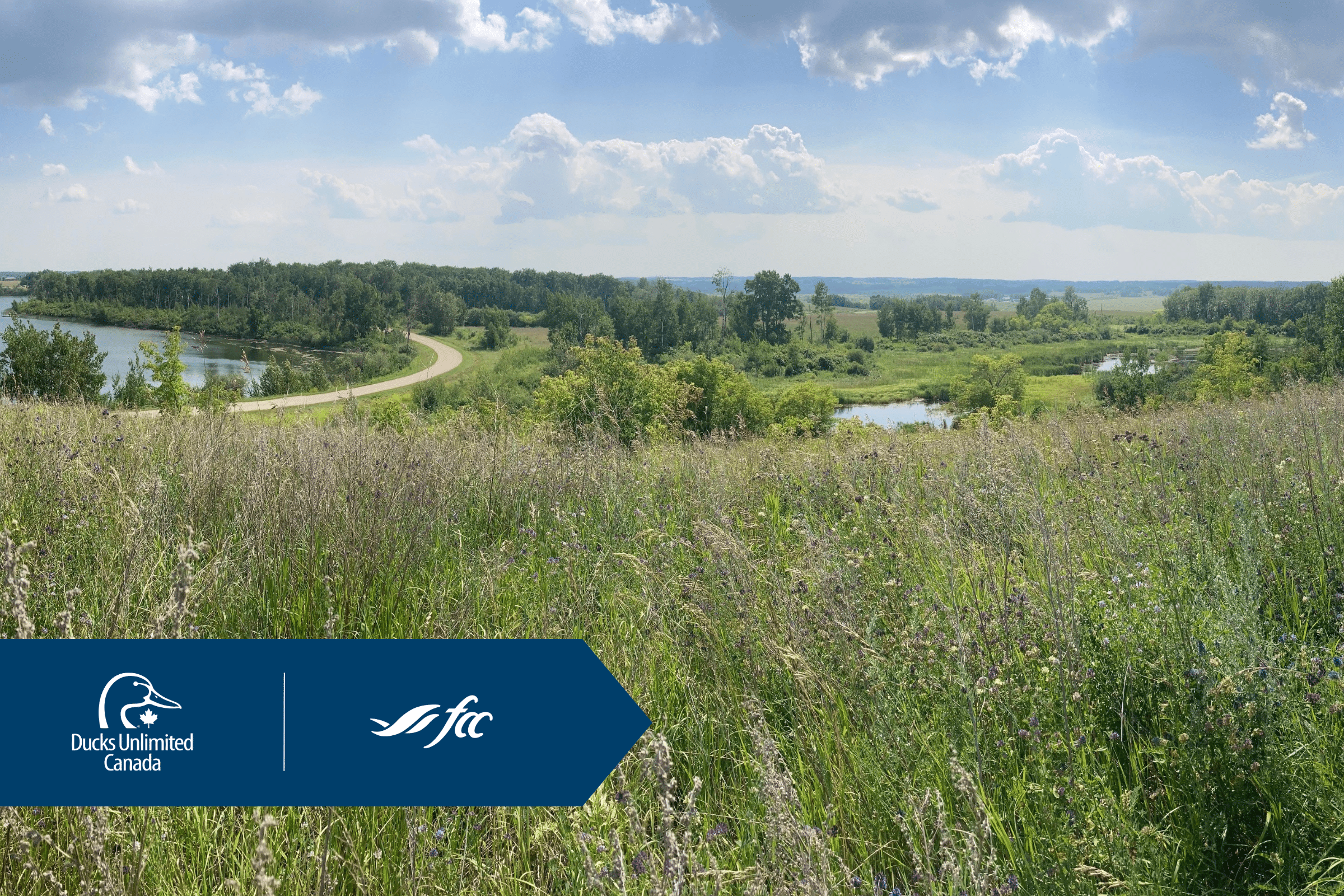 Stonewall, Man., November 15, 2023 – Ducks Unlimited Canada (DUC) is announcing a partnership with Farm Credit Canada's (FCC) Sustainability Incentive Program.
This new incentive program will complement DUC's Marginal Areas Program on the Prairies. Producers who participate in the Marginal Areas Program in Alberta, Saskatchewan and Manitoba are incentivized to convert unproductive cropland into a more biodiverse state by planting perennial forage.
"Producers who are taking advantage of our Marginal Areas Program are already having success turning land that isn't as productive as they would like into habitat that offers additional benefits," said Kristine Tapley, national lead for sustainable agriculture at DUC. "We are proud to partner with FCC to offer even more of an incentive for producers to consider what works best for their operations and allow them to maximize the full potential of their land."
The Marginal Areas Program targets areas that are unproductive due to poor drainage, soil conditions, periodic flooding, inaccessibility, or salinity. DUC offers an incentive upfront for participating in the Marginal Areas Program through a 10-year agreement to assist producers with the cost of establishing perennials and alleviate the financial burden associated with land management.
In addition to the DUC payment, FCC customers who are participating in the Marginal Areas Program can now receive an incentive payment based on a percentage of their total owing with FCC capped at a maximum payment of $2,000 or $50/acre of enrolled acres.
"Canadian grasslands are some of the most endangered ecosystems in the world. This incentive program is an opportunity for producers to provide natural habitats for wildlife and enhance biodiversity responsibly," said Curtis Grainger, FCC director of sustainability programs. "We hope to encourage seeding marginal areas that are unproductive to perennials, helping to improve profitability, pollinator habitat and act as buffer zones."
By sustainably managing areas with unproductive cropland through this program, producers are financially incentivized to contribute to environmental enhancements, which positively impact biodiversity while offering a solution to local land management challenges.
DUC is the leader in wetland conservation. A registered charity, DUC uses sound science and partners with government, industry, non-profit organizations, Indigenous Peoples and landowners to conserve wetlands that are critical to waterfowl, wildlife and the environment. To learn more about DUC's innovative environmental solutions and services, visit ducks.ca.
FCC is Canada's leading agriculture and food lender, dedicated to the industry that feeds the world. FCC employees are committed to the long-standing success of those who produce and process Canadian food by providing flexible financing, AgExpert business management software, information and knowledge. FCC provides a complement of expertise and services designed to support the complex and evolving needs of food businesses. As a financial Crown corporation, FCC is a stable partner that reinvests profits back into the industry and communities it serves. For more information, visit fcc.ca.
-30-
For more information or interviews, please contact:
Karli Reimer
Ducks Unlimited Canada
Call/text: 204-801-1211
Email: k_reimer@ducks.ca