Story
January 2, 2020
Redvers ranchers earn stewardship award thanks to holistic management
By replicating how bison used the land centuries ago, a Saskatchewan farm is fostering healthy soil and a healthy landscape
Cattle ranchers Blain and Naomi Hjertaas have seen vast improvements on their 800-acre-farm in southeastern Saskatchewan over the last 20 years by changing their land management approaches.
Their practicality and forward-thinking have earned them the Saskatchewan Stock Growers Association (SSGA) 2018 Environmental Stewardship Award.
Making a switch from grain to grass, restoring wetlands and taking centuries-old cues from grazing bison were part of their winning formula. Here's how the Hjertaas' tweaks led to their success.
Centuries-old practices improve soil health
Located near Redvers, Hjertaas Farm has been in the family for 102 years, with Blain and Naomi the third generation. Today, Blain and Naomi own 40 cows, and custom graze about 90 cow-calf pairs. Their son and daughter-in-law, Martin and Thyra, graze about 500 ewes (lambed out to total about 1,000 sheep). They do this all on 800 acres.
About 20 years ago, the Hjertaas made the switch from grain to grass farming. One of their primary motivators was to improve their farm's soil health. In 2003, Blain learned about holistic management—making decisions that are sociologically, environmentally and financially sound. The Hjertaas adopted holistic management principles and applied them to their farm.
This included incorporating multi-species rotational grazing, and duplicating what the bison did on the same land several hundred years ago.
"What we've done on our farm over the past 20 years is we've tried to make decisions that are good for us as people and good for us financially but everything must also be good for our land and the environment," he says.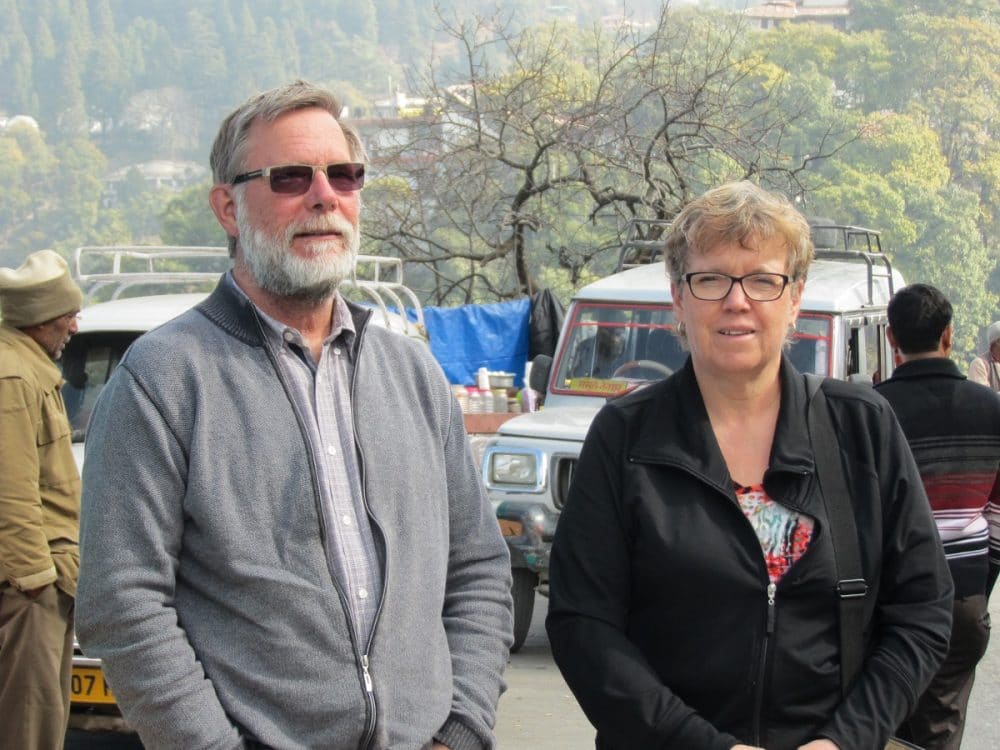 Restoring wetlands, reviving the land in Redvers, Sask.
The Hjertaas Farm is in the black soil zone with an abundance of wetlands. In his early grain farming career, Hjertaas got rid of the water by draining the sloughs, so he had more land available to grow his crops.
"When I discovered holistic management, I realized that draining those sloughs wasn't particularly intelligent," he notes. "Luckily, Ducks Unlimited had a program to reverse the process."
The Hjertaas worked with DUC improve their grazing environment through DUC's Wetland Restoration Program. According to DUC agrologist Kylie McRae,  the Hjertaas built ditch plugsearthen berms—to restore the wetlands when the program was still very new.
"Some benefits of restoring previously drained wetlands include increased watering locations for livestock and healthy forage production for livestock," says McRae. "Restoring wetlands also adds both plant and wildlife biodiversity to pastures."
Hjertaas says installing the ditch plugs wasn't a difficult task to complete and the results are worth the effort. "The ditch plugs allow us to store more water on the landscape which is beneficial to us and the production of grass," he notes. "Most of the sloughs are small, and they dry up relatively quickly. In turn, we're able to grow quite a lot of healthy grass in those low spots."
Hjertaas notes the restored sloughs have cleaner water and increased biodiversity on the property. "One of the things we've noted over the years is that as our land begins to heal, we don't have runoff running directly into the dugouts and sloughs, it infiltrates the soil first. This makes a huge difference in the water quality."
Passing along the knowledge
Hjertaas is now a holistic management instructor. He also partners with DUC to host producer field days and workshops, as well as grazing club meetings/tours. He was also instrumental in the 4-H pilot project Southeast Greener Pastures Grazing Club. The Hjertaas Farm is part of an Agriculture and Agri-Food Canada study that looks at the health of farming landscapes. This study evaluates measure such as soil carbon sequestration to wildlife to socio-economics to grass production. To that end, Hjertaas says the ultimate goal to any healthy landscape is diversity.
"People want to see diversity; they want to see wildlife; that's important to society's goals," he notes. "The way I'm managing my land is better for everyone, plus I'm providing better food by doing it. Properly managed livestock are the only way to heal the earth."