News
January 31, 2022
Canada's beef farmers are the Guardians of the Wetlands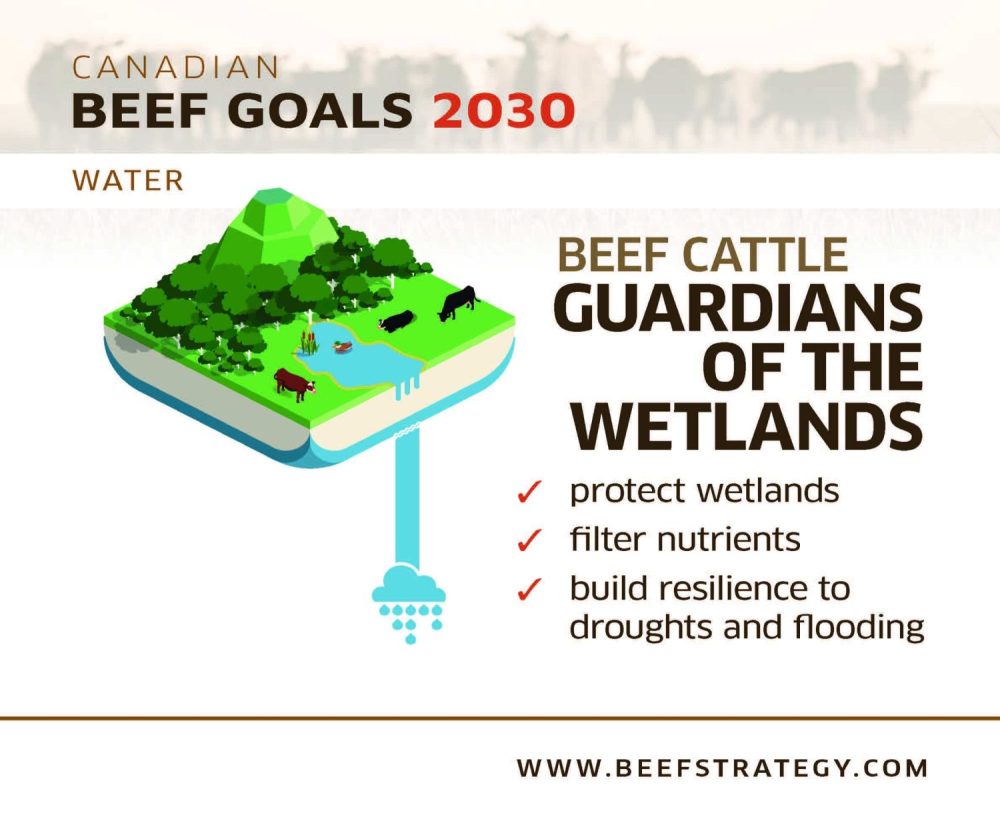 No one understands the importance of having abundant, fresh water more than beef farmers and ranchers. Wetlands nestled within healthy grasslands, forage and pasture acres provide beef herds a clean water supply. It's because of this that beef farmers and ranchers are more likely to protect or restore wetlands, giving them the well-earned title of Guardians of the Wetlands.
As we celebrate World Wetlands Day on February 2, we need to recognize Canada's beef industry for their commitment to caring for their livestock and our environment. Led by the Canadian Beef Advisors, the industry has set ambitious 10-year goals that address greenhouse gasses, carbon storage, land use, biodiversity, and water and soil health. Keeping wetlands on the land plays a key role in meeting each of these targets.
Specifically to wetlands, the beef industry's goals are to protect these important ecosystems while recognizing and promoting their role in holding carbon, filtering nutrients and increasing our land's resiliency to drought and flooding to policy makers and the public. At Ducks Unlimited Canada, we support these outcomes and will continue to work with and highlight the conservation accomplishments of these stewards of the land.
There are currently 1.6 million acres of wetlands found in grasslands in Canada. These are the places where cattle are raised. And this is why having grazing animals as part of a sustainable landscape is so important. Without them, we risk losing these habitats and all the benefits they provide. Right now, 68 per cent of wildlife habitat can be found on the same land used to raise beef cattle. These farms and ranches pack a major punch.
Cattle and wetlands share the land, and beef farmers and ranchers take their responsibility to safeguard the natural areas under their care seriously. With the goal of continuous improvement always in mind, they implement a variety of beneficial practices on their farms and ranches to put the health of their animals and our environment first while also allowing for their operations to remain viable.
It's time Canada's beef farmers and ranchers are fully recognized for their efforts and as the Guardians of the Wetlands. Their farms can be a solution to managing climate change and a healthier environment. It's a win for our sustainable food system as well as a win for our wetlands.
To learn more about all the 10-year goals set by the Canadian Beef Advisors, click here.